How to Evoke Creativity in Your Children with Crafting Kits
Posted on
We all want our kids to explore the world of creativity and try something new. Creativity is an important aspect of brain development for young ones. Some of the key benefits of evoking creativity in children are that they help create self-confidence, solve problems, and improve concentration and focus. There are lots of ways to inspire creativity amongst your little ones. Here are some ideas to consider:
Why consider craft kits?
In recent times, we have noticed an increase in interest for Craft kits and DIY kits. These are nothing new and they have always been in the market. But with this pandemic, kids have been stuck at home for a longer durations, parents are looking for unique ways to keep them engaged and encourage their development. From ready to paint MDF kits to slime kits, there are several different options to choose from. Crafting kits are not just for the development of our children's artistic hands, they are imperative for the development of children's fine motor coordination too. When you let children create their own piece of art, it gives them a sense of fulfilment and boosts their self-esteem too.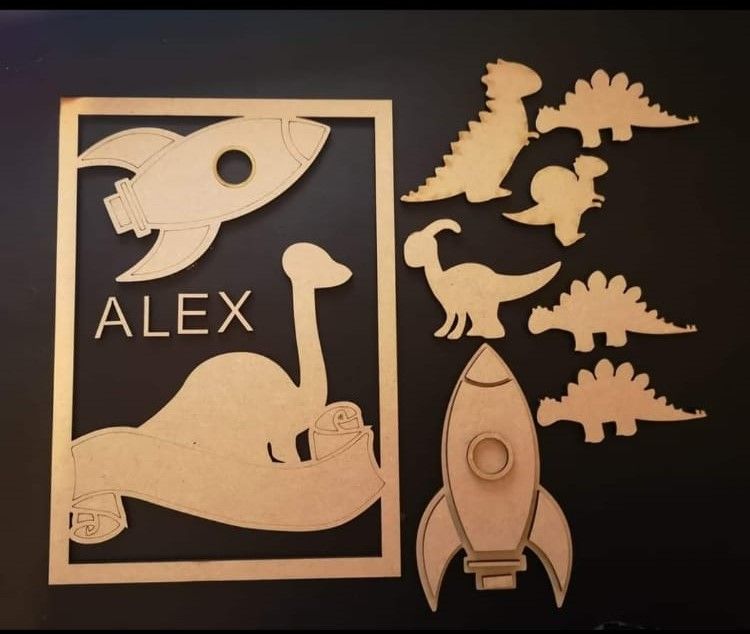 As children, you are training them to be patient for the final outcome, and teach them self-control while managing their emotions, even if something goes wrong through the process. Crafting kits are an exceptional way for children to explore their imagination, make the right choices and turn it into a masterpiece. There's a sense of achievement that this process evokes amongst little ones.
What are some of the craft kits to consider from Central Scotland Customs?
We have crafting kits for all ages. From baby shapes, letters and signs to blank dream catcher with name personalised, we have a huge variety of crafting kits. Some of our customer favourites are:
Best Mum Plaque: Made with 3mm premium quality Plywood, this plaque is ready to be painted and accessorised by your little ones. They come unassembled and unfinished to get your little ones thinking.

Dinosaur and rocket children's crafting kit: What you'll love about this crafting kit is that it can be personalised to the taste of your children so that they can hang it in their room once finished. This crafting kit comes with a number of shapes that need to be painted.

Large letter children's crafting kit: This personalised name cut out includes paint pots and paintbrush too. This crafting kit can be chosen based on a given theme and can include additional shapes.
Encouraging children with crafting kits are not just a way to keep them engaged, but to advance their artistic skills and boost their self-esteem. Browse through our selection of MDF kits and get your little one a crafting kit from Central Scotland Custom that they are sure to appreciate.